Dr. Drew Flamm, Seventh President of Grace College & Seminary
Dr. Drew Flamm was named the seventh president of Grace College & Seminary in April 2022. The Grace College & Theological Seminary Board of Trustees unanimously approved Dr. Flamm after a comprehensive seven-month national search. "We are thrilled to see Dr. Flamm assume this new leadership role at Grace," said Butch Shook (BS 72), Grace board member and chair of the search committee. "Throughout his past nine years at Grace, Dr. Flamm has consistently displayed Christ-centered servant leadership. He has a deep love for Grace College & Seminary and unwavering confidence that God will continue using this institution to help students better know Christ and make Him known."
---
A Proven Leader
Flamm has more than 16 years of higher education experience at multiple colleges. He served at Grace since 2013.
Under the leadership of past president, Dr. Bill Katip, Flamm directed the Aspire Campaign, the school's largest-ever comprehensive campaign which raised $39.8 million. The Aspire Campaign enabled the building/renovation of five facilities and more than doubled the institution's endowment.
Over the course of his time at Grace, Flamm was promoted to oversee marketing and enrollment efforts as well as the Lilly Center for Lakes & Streams. Flamm played a crucial role in integrating marketing and enrollment functions and leading the school in its "Ways of Grace" rebranding, resulting in a 21% increase in undergraduate enrollment.
In addition, Flamm has demonstrated proficiency in strategic planning, successfully providing the strategic framework, assembling task forces, and implementing campus-wide plans for the past several strategic cycles. He also teaches in the college's Master of Nonprofit Management program.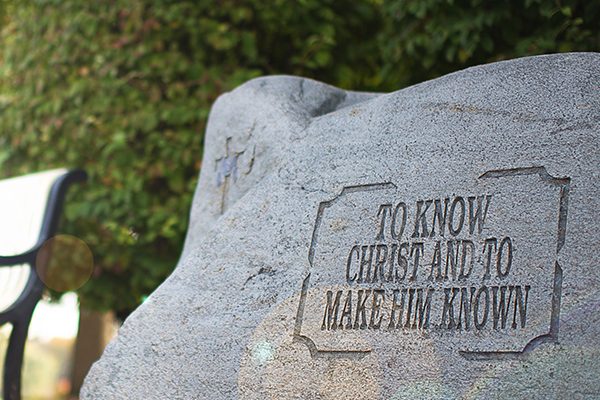 To Know Christ and to Make Him Known
Grace's first president Dr. Alva J. McClain declared "To Know Christ and to Make Him Known" as the mission of Grace in 1937 and it remains our mission today. Hear Dr. Flamm's thoughts on how these words inspire his work here at Grace.
Watch Dr. Flamm's Video
Presidential Biography
Dr. Flamm holds a Bachelor's degree in Comprehensive Communication from Cedarville University, a Master's in Communication and Leadership from Gonzaga University, and a doctorate in Educational Leadership from Indiana State University. Flamm and his wife, Stephanie, live in Winona Lake, Indiana, with their three sons.
Learn More About Dr. Flamm
Contact the Office of the President