A major in English at Grace College will explore the ins and outs of literature and writing. As you consider an array of colleges with English majors near you in the midwest, be assured that when you find your way to Winona Lake, Indiana, you will discover a top college for English taught with a Christian worldview. A Grace College English degree will help you make workable connections between critical thinking and ethical reading, preparing you to weigh questions and create conversation in a Christian college context. 
This program is for you if you are serious about creating an impact in an English career. With a bachelor's degree in English, you will be required to get real-world experience ensuring you are equipped for jobs in editing, writing, digital copywriting, and countless other areas. 
Future Writer, the way forward is Grace.
Educational Focus
World, British, and American Literature
Creative and Professional Writing
Christian Classics
Irish Literature
Women Writers
Internship / Co-Curricular Opportunities
212 Media Studios
America Reads
N2 Publishing
InkFree News
BMH Books
Warsaw Community Public Library
The Sounding Board (Grace College School Newspaper)
Writer's Block Creative Writing Workshop
Forensics Team (Grace College Competitive Speaking)
Annual Stratford Theatre Festival Trip
Department-Sponsored Field Trips for Live Theatre, Author Talks, etc.
Career Opportunities
Digital Copywriter
Legal Assistant
Educator
Social Media Manager
Editor
Technical Writer
Librarian
English is a Good Fit for Those Who Are:
Passionate about Reading
Creative
Perceptive
Curious
Interested in Other Perspectives
Strong Writers
Featured Staff
Lauren G. Rich, Ph.D.
Chair, Department of Humanities; Associate Professor of English; Program Director, English and Journalism
richlg@grace.edu
The English program at Grace provided me a tight-knit, supportive, and personal community of learning, and it was exciting to have new faculty coming in and further enriching the department. Beyond offering students a variety of literary experiences, the faculty consistently made themselves available to me as I was searching for a vocational path after graduation. Since entering graduate school, I still reach out to them and they're always generous with their time and insight.

Stuart Mullet, (BA 18), MA/Ph.D. in English, University of Mississippi
8
the number of upper-level literature electives students can choose from each year
250
the number of cups of coffee consumed during Writer's Block creative writing workshop over the course of one year (JUST KIDDING! We can't keep track of that!)
265
hands-on learning opportunities on campus and in the community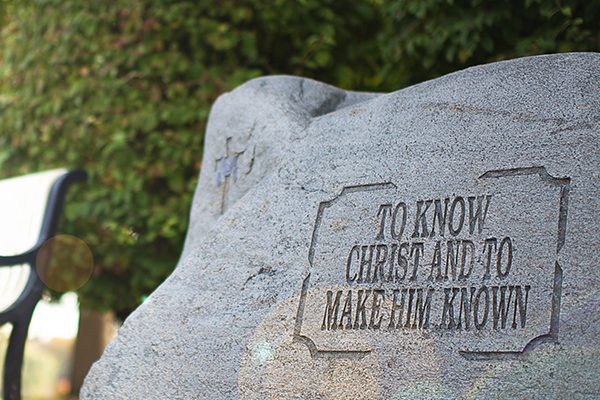 Education with a Biblical Worldview
At the heart of a Grace education are academically challenging courses that are specifically designed to foster a thirst for character, competence, and service within the hearts and minds of our students.
Learn More About Our Values
As soon as I had decided to become an English Major, I most greatly felt valued and accepted by both my peers and professors. Their support and confidence in me have allowed me to venture outside of my comfort zone and experience life in new and exciting ways. Whether you wish to become an English major, or simply wish to participate in our events, there is a spot for you here in the English program.

Kyela Seals