Blogs
- February 24, 2022
Williams Follows His Passion to Lead as a Christian College Student and Beyond
"My story starts with family. But I guess everybody's story starts with family," said Jalen Williams of South Bend, Indiana. 
Williams grew up as the second oldest of fourteen siblings. As an older brother to twelve, he always felt called to set a good example for those younger than him. He held himself to a high standard in high school and never let himself fall behind.
"That's what led me to becoming a college student – having a mindset of always pushing myself to higher levels in school," explained Williams.
But there was more to his college search than that. Williams grew up in a Christian home which nurtured his desire to be a Christian college student. Grace College wasn't just a good fit for Williams – it felt like home.
"When I got to Grace, I became passionate about being an Christian college student who is an active contributor," said Williams.
And that's what he did. Williams majored in visual communication design and minored in music production. He dove into his courses head-first, determined to persevere through the assignments that stretched him. He distinctly remembers one of Professor Winey's art classes that challenged him early on.
"At first, I hated it," reported Jalen. "It was so intense and I felt a lot of pressure. But as I started digging into the course and applying what he was teaching, I started to grow. I am so thankful for the process he put us through."
And his determination in academics didn't go unnoticed. 
His sophomore year, Williams was one of the 30 first-generation Hoosier students to be honored for "Realizing the Dream", a $3,000 scholarship given by Independent Colleges of Indiana. Williams was thankful and honored to be selected for the scholarship. He described it as "a reminder that you never know who is watching you and taking note of your effort and hard work." According to Williams, the day he received the email notifying him of the award, he was overwhelmed and stressed about school. The timing was providential. 
"I was honestly reaching my limit and needed some form of hope to say, 'Keep going.' That's when I checked my email. At that moment I felt God telling me, 'Don't give up when you've made it this far,'" recounted Williams. 
Williams attended the event with his most influential teacher from fifth grade, Mrs. Julie Congdon – yet another reminder of his roots and how far he had come. The award was validation for Williams' that he was becoming the big brother he had always hoped to be.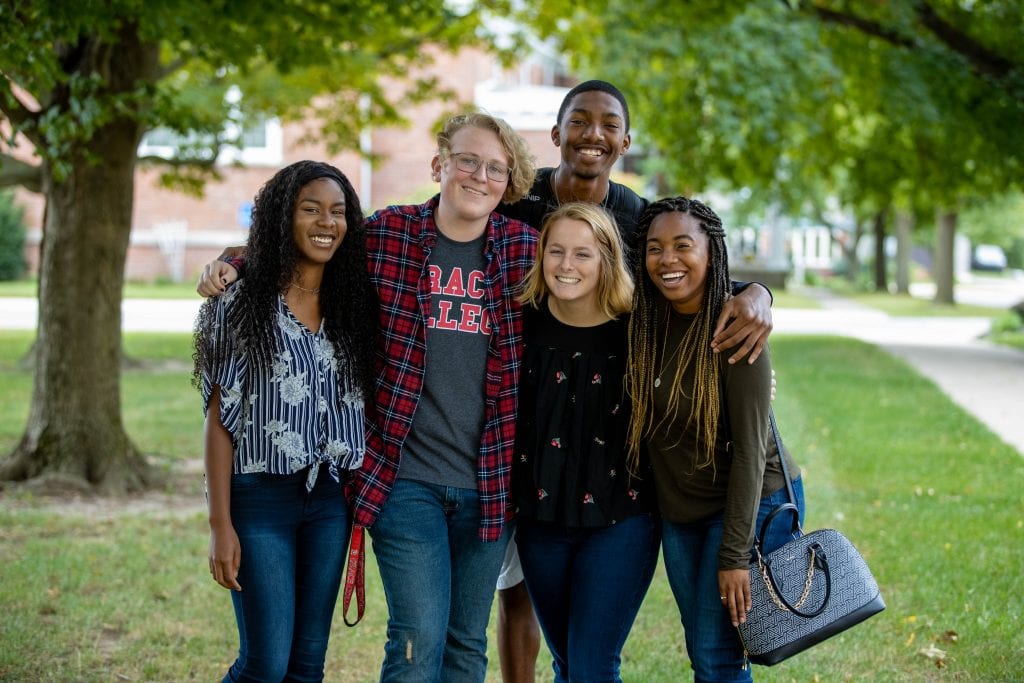 As Williams grew as an artist and a Christian college student, he also grew as a campus leader. When he first arrived at Grace, he insisted he wasn't cut out for leadership, but Kearstin Criswell, Director of Student Involvement, saw a leader in him.
"I appreciate the energy and boldness that Jalen brings into a room," Criswell said. "He is willing to share ideas and is quick to remind those around him of the truth of the Gospel."
During his first year at Grace, Williams met Kierstyn Worthem and some other students who were involved in the Black Student Association. He immediately befriended them and became interested in the Black Student Association's mission. The next year, he joined the Council for Diversity and Inclusion (CDI) and made such an impression, he was asked to be the president of the Black Student Association for the 2020-2021 school year. Growing in his passion for diversity and connection, he felt ready to take a step forward as a leader. So he said yes.
It didn't take long for Williams to fall in love with his role. He began to embrace servant leadership, make long-lasting connections on campus, and exchange stories and experiences in a space that celebrates the rich culture of many different backgrounds.
"My job as president of the Black Student Association was to create a space where black minority students can feel a sense of familiarity and build connections with other black students," he said. "My vision was that people felt comfortable being themselves in any given space, that there was no weird racial tension. And that was my vision for all of campus – that we could all be ourselves, but also be together in that and celebrate our uniqueness side by side."
Williams' philosophy made a difference. In the first semester of his leadership, attendance for the Black Student Association's events rose significantly, and connections were made among students all across campus.
Cokiesha Bailey Robinson, associate dean of student diversity and inclusion, is one of the staff members who has been impacted by Williams. "Jalen is a unifier on campus," she said. "He is a friend to all students and a bright and positive leader for the black students. He fosters events that allow minority students to be themselves, to tap into their rich culture, and to enjoy safe spaces."
And Williams has continued building bridges on campus even after graduating. 
When Jalen completed his undergraduate degree, he enrolled in an online Certificate in Corporate Communication Strategy at Purdue through Grace's partnership program and is working as a graduate assistant as an audiovisual tech assistant for chapel. He continues to work closely with the Black Student Association, serving as its student advisor.
"Even though I graduated, it's my goal to continue to build relationships with new Christian college students and serve as a leader on campus," said Williams, whose family continues to be his greatest motivation to continue learning and leading. Now with one of his younger brothers enrolled in college, he's confident that his hard work to be a good example is paying off. 
"God has blessed me in many ways and I'm thankful for all that he's done for me so far," says Williams. "I know there are still more blessings to come."
Are you ready to start your journey as a Christian college student?