The Ultimate Grace College Bucket List: 50 Things to Do Before Graduation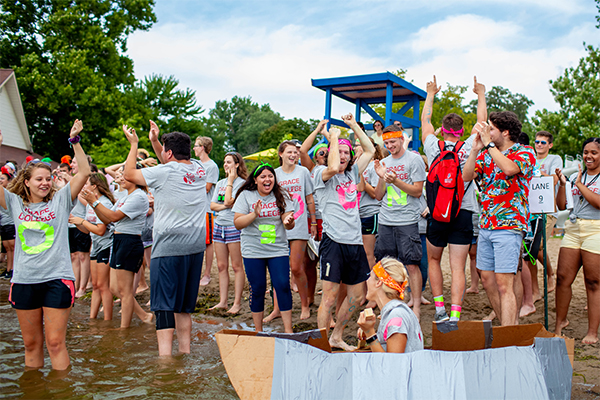 When the freshman class steps foot on our campus for Welcome Weekend, they have no clue what they're about to experience…all of the people they will meet, all of the weekend trips they will take, and all of the campus traditions they will experience. There's no doubt, each "Gracie" (as we like to call our students) will curate their own college experience, marked with favorite study spots, memories of pure spontaneity with friends, and annual traditions of their own. The Grace College experience could never be boiled down to 50 to-dos on a college bucket list, but we've gathered input from current students, alumni, staff, and faculty to compile this list that we believe is worthy of the title: "The Ultimate Grace College Bucket List." 
Read on, and let us know if you agree!
1. Walk, bike, or jog through the mountain bike trails in Winona Lake.
2. Grab a craft burger at Oak and Alley. 
3. Go on the freshman right-of-passage, the Hike, and give it everything you have. 
4. Catch a ride on the Grace Boat…and if you're a real dare-devil, go tubing behind it!
5. Go to a festival in Winona Lake. We highly recommend you put the Fat and Skinny Tire Festival on your college bucket list!
6. Schedule a day trip with some pals to enjoy the Lake Michigan sand dunes.
7. Attend a midnight show put on by Grace's improv comedy team, Back in Five.
8. Work a campus job. 
9. Take a winter walk around the Village at Winona around Christmas time and enjoy the lights!
10. Watch the sunset from the Adirondack chairs on the shores of Winona Lake. 
11. Take a weekend trip to Chicago, and ride the train into the city.
12. Play all nine holes of the disc golf course on campus.  
13. Drive to Dirty Dan's in Kokomo for a fresh donut when they open their doors at 1 a.m.
14. Challenge Sir Red to a race down the sideline at a sporting event. 
15. Carve out a Saturday morning to explore downtown Warsaw and buy flowers at the local farmer's market. 
16. Organize a chicken nugget eating contest on one of the infamous "Nug Days" at Alpha Dining.
17. Participate in Student Involvement's annual snowboarding/skiing trip to Michigan. 
18. Take a night hike through the woods behind Beta. 
19. Participate in your hall's T-shirt Chapel skit — and secure the win of the ever-sought-after trout prize. 
20. Take a long drive around the back roads of Kosciusko County and find a lake or stream you didn't know existed. (Our county has more than 100 lakes and streams!)
21. Participate in the annual event Nocturnal: a night-time community bike ride. 
22. Grab a bite to eat at the Garden at Cerulean, a vibey outdoor restaurant with trivia and live music nights. 
23. Sign up for the lip-sync battle, an athletic event or another competition in the Joust. Help your team bring home the gold!
24. Ice skate at the new skating rink in the Village at Winona. 
25. Find a church to call home and invest your time, talent, and treasures there!
26. Gather some guys/girls from your hall and take a midnight trip to Walmart in footie pajamas. Buy some ice cream while you're there!
27. Try some of our area's authentic Mexican restaurants and food trucks…once you try these street tacos, you'll never want homemade tacos again.  
28. Swim to the other side of Winona Lake and back (it's just over a mile!)
29. Visit one of your professor's homes…or even better yet, if you live in an apartment, make dinner for your favorite professor and his/her family. 
30. Comment, like, and subscribe to all Grace social media channels.
31. Visit Fort Wayne's many coffee shops. Put Fortezza, Mocha Lounge, Conjure, and Utopian Coffee at the top of your list.
32. Go jet skiing on the annual Lake Day event hosted by the student activities board. 
33. Play a round of campus golf with some friends, and dress up in formal golf attire — collared shirts and all. 
34. Step foot in every shop at the Village at Winona — and don't miss the annual Pajama Day Sale where many shops offer major store-wide discounts. 
35. Get fumbled at Alpha Dining (if you know, you know). 
36. Try every flavor of ice cream at Kelainey's in the village. 
37. Take a trip to Indianapolis and take a hike up the 330 steps to the top of Soldier's and Sailor's Monument.
38. Go sledding down Alpha Hill on the first snow day of the season.
39. Order a bento box for lunch at Cerulean. 
40. Hammock on the trees on Indy lawn. You get extra points for every hammock you stack on the same two trees. 
41. Go to a First Friday event in downtown Warsaw.
42. Go to Sophomore Mugging and collect your free Grace College mug!
43. Start a snowball fight on Beta field. Lomega vs. Kent and Beta….go! 
44. Kayak or paddleboard around the perimeter of Winona Lake. 
45. Buy your hall t-shirt each year.
46. Go bowling on free shoe rental Tuesday night. 
47. Secure a win either at the Beanie Bowl Homecoming event or another Intramural tournament. 
48. Get featured in the yearbook publication, Roots Magazine.
49. Go on the road with a car full of friends (dressed in red from head to toe) to cheer the Lancers on when they play *read beat* long-time rival, Bethel University. 
And last, but certainly not least on your college bucket list:
50. Never miss an Alpha Dining Thanksgiving or Christmas dinner.
Are you ready for your Grace College experience to begin so you can start checking things off your college bucket list? 
Request info about Grace College and get started on your list.